"Moving the Town of Highland forward, while respecting our character, our history, and our environment." A New Vision For The Town Of Highland:

Protect and promote the character, history, and beauty of our town, maintain our legacy, create new opportunities, and foster growth for the benefit of our entire community
Protect the health, safety, and welfare of each resident of the Town of Highland
Increase funding for our local constables, fire departments, and EMT services by pursuing county, state, and federal programs
End "conflicts of interest" and nepotism among Town employees and appointees and boost our local economy by posting open job positions
End wasteful contracts with non-local companies and firms by giving priority to local contractors, vendors, and other professional services
Build on recent successful grant acquisitions by seeking funding to benefit our town
Improve educational and recreational opportunities for all residents
Create jobs and incentivize new and existing businesses to invest in the Town of Highland
John Pizzolato is the Town of Highland delegate and current chairman of the Upper Delaware Scenic Byway Committee. He is the co-founder and president of the Barryville Farmers' Market, and serves on the board of directors of the Greater Barryville Chamber of Commerce. John is also a volunteer at the Yulan Food Pantry at St. Anthony's Church. He has partnered with leaders and legislators of all political affiliations, and has worked tirelessly with the Town of Highland, the Sullivan County Planning Department, New York State, and Sullivan Renaissance to procure almost $200,000 in grant funds and donations to improve river access, signage, gardens, infrastructure, and to feed those in need.
John has also enjoyed a successful career in hospitality, public relations, event production, and marketing. He is the director of the International Playground retail and public relations agency, and with partner Roswell Hamrick, co-founded the Stickett Inn, in Barryville, in 2011, and the subsequent Stickett Inn Cider Company, in 2017. He is the lead teaching artist for Bethel Woods P. L.A.Y. Music Theatre Program, and most recently founded the bipartisan "Lifting Neighbors Party," along with Margaret Granese and Laura Burrell, for voters and candidates alike to look past partisan politics for the betterment of the community in which we live.
John grew up in suburban Illinois, and moved to Long Island, in 1997, to attend Hofstra University, where he received a BFA in performance and production.  The son of a hardworking union electrician and United Way community organizer and advocate, John has never underestimated the value of hard work and volunteerism, and is dedicated to helping his community in any way he can.  He has proudly called Barryville home for over fifteen years.
Updates from John
Dates For Your Diary
Friday October 8
LAST DAY TO REGISTER TO VOTE!
Online registration is available here
Tuesday October 12, 8am-11am
Veterans and Seniors Free Breakfast at Irene's Diner
555 State Rte 55, Barryville, NY 12719
Meet Lifting Neighbors Endorsed Candidates John Pizzolato, Laura Burrell, Margaret Granese
Sunday October 17
Lifting Neighbors Benefit at Eagle Lodge
With Musical Performance By American Nomads
Tickets $50 per person.
Venmo 9174784566 with 'lifting neighbors' as the subject or buy tickets at the door.
Monday October 18
Last Day to Apply For An Absentee Ballot
Online application can be found here
Saturday October 23 – Sunday October 31
Early Voting Available
Find your early voting location here
Sunday October 24
Sullivan County Democratic Committee Benefit and Rally Hosted by David Cross
Cochecton Pump House, 7895 NY-97, Cochecton, NY 12726
Tickets $40 per person, available here
Tuesday November 2
Election Day!
Find your voting location and check your registration here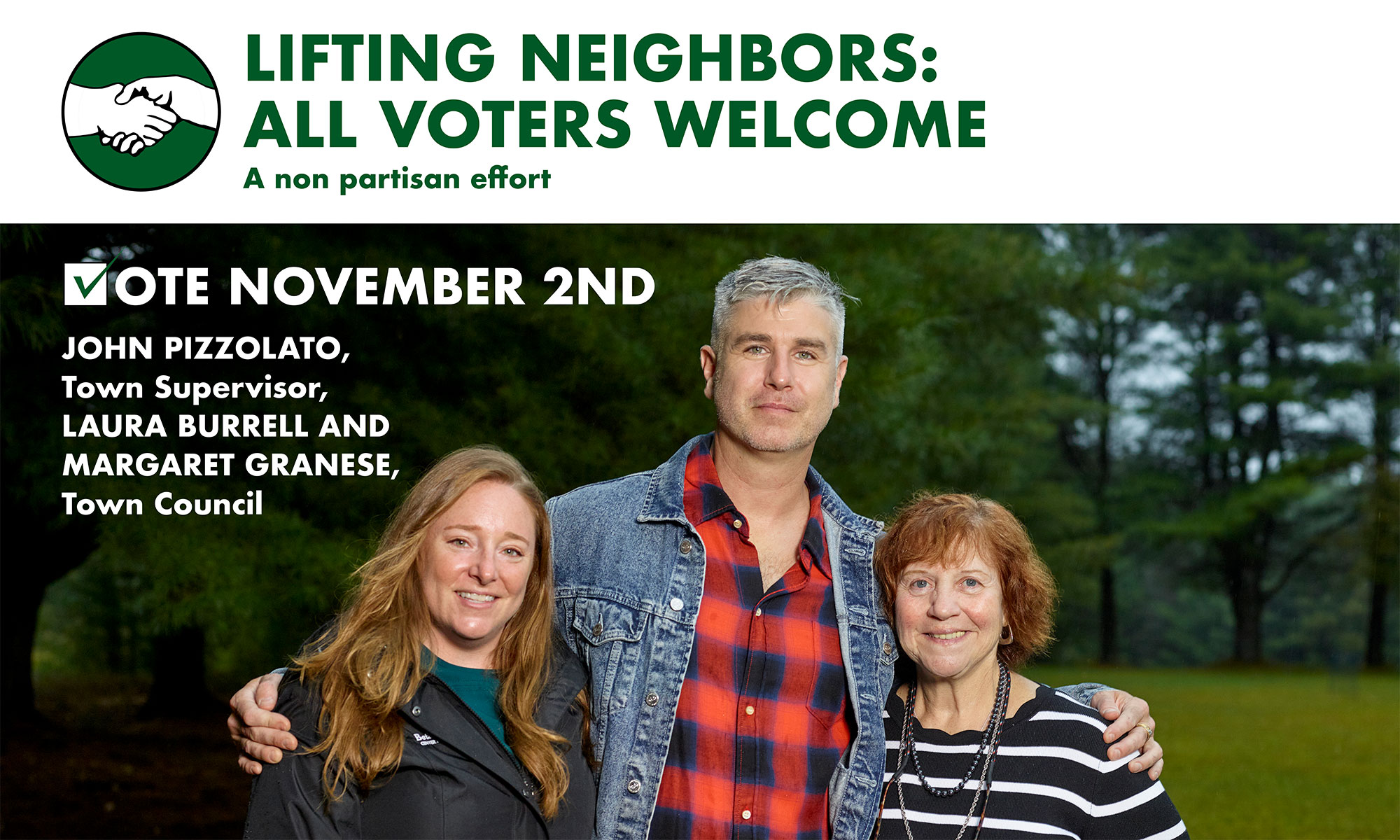 Sign Up To The Mailing List To Receive Updates from John in your inbox